Commercial Building Services
Want commercial building services for your business?
Heatcom Ltd has a wealth of experience in the commercial field and provides a large range of services for all your building needs
Commercial Building Services from Heatcom Ltd
Looking for a full turnkey solution to mechanical building service installations?
Want a commercial boiler upgrade?
New Commercial Boiler Quote
Is your current commercial heating system due for an upgrade? If you're looking for a new commercial boiler, cylinder or storage tank, let Heatcom Ltd provide you with a quote. We personalise our recommendations for your boiler upgrade, advising you on the best boiler for your business. Whether you're seeking a more compact heating solution, or require a large, long-lasting solution with additional heating output, our tailored suggestions ensure you'll end up with a commercial boiler that's your perfect fit.
Required for landlords
Gas Safety Certificate
Ensure your property is safe with a comprehensive gas safety check. If you're a landlord, acquiring a gas safety certificate is required by law if you have tenants renting your property. During our Gas Safety checks, one of our gas safe registered engineers will check:
If your gas appliances are leaking or damaged
If you have any carbon monoxide leaks
Flue flow and ventilation
Gas pressure
General usage
Once your property has been checked and the engineer approves it gas safe, we'll issue you a gas safety certificate.
Heating solutions for high volume spaces
Warehouse Heaters
Warehouse heaters are extremely efficient. Capable of heating high volume, well ventilated spaces, the heating output from a warehouse heater is extensive. To help you maintain your warehouse environment at a constant temperature, we make our recommendations on the best heater for the job based on the size of the space you need heating. Whatever your priorities; fast warm up time, limiting heat loss or energy efficiency, Heatcom Ltd will source and install a warehouse heater that's your best match.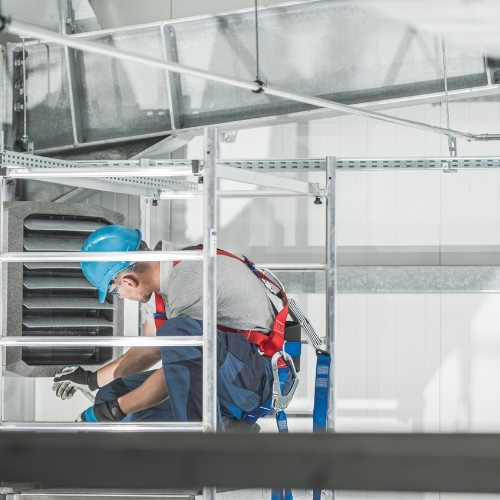 Let Our Experts Deliver Commercial Building Services
Heatcom Ltd experts have extensive experience in the commercial field
Water heating solutions for high demand applications
Commercial Water Heating
Heatcom Ltd recommends and installs water heaters suitable for a large range of commercial applications. To gain maximum efficiency from your commercial water heating, it is vital that you ensure it is installed and set up correctly. Heatcom Ltd heating engineers will make recommendations based on what you require from your commercial water heater – requirements vary based on the size of your space, the demand for instant hot water, the amount of use the water heater will get etc. They will then install and set it up for you, explaining how to use it and making sure you're satisfied with your new installation.
Comprehensive advice on building regulations compliance
Building Controls
At Heatcom Ltd, our building controls service assists you in any size and type of commercial project. Throughout the project, we work closely with you, providing bespoke solutions. We specialise in a full design, installation, repair and maintenance service for industrial and commercial heating, ventilating, plumbing and air conditioning systems for a wide range of project sizes and building types. Heatcom Ltd becomes part of your project team and will advise you on building regulations compliance, from the project's initial stages to finalisation.
Ensure your property's safety
Commercial Gas Test and Purge
Commercial gas testing is an important safety process, where your gas pipes and installations are inspected to ensure they are in good working order and safe to use. Heatcom Ltd advises that you have a commercial gas test and purge performed annually at your commercial property. This service should also be performed in line with your building's insurance policy. A purge is performed to ensure the perfect air/gas mixture is passed through the pipe work without causing any dangers. Once purging has been completed on your system, it will be certified.
Want Commercial Building Services?
Let Heatcom Ltd experts take care of your business
Increased water pressure for commercial applications
Cold Water Booster Sets
If your commercial property is suffering from poor water pressure, you may require a cold water booster set to give it some extra power. A cold water booster set is an excellent option for boosting water in a commercial property where there are many outlets – for instance, if your property is a hotel with many showers and taps, a cold water booster set should help your system to maintain a higher water pressure and flow. Heatcom Ltd can help you to choose the appropriate product.
Service Contracts
Heatcom Ltd offers commercial service contracts. If you wish to work with us and choose us as your service provider, we can provide you with a service contract, outlining the terms of our service relationship. When you pick Heatcom Ltd, you can rest assured you've chosen trustworthy, reliable building services for your commercial property.
All sizes of projects undertaken
Larger Contract Works
Heatcom Ltd is a specialist commercial heating, ventilating & air conditioning contractor, working with a range of clients and project sizes. Do you have a large contract work that requires commercial property building services? Get in contact with Heatcom Ltd.